What is IEEE P1801 (Unified Power Format)?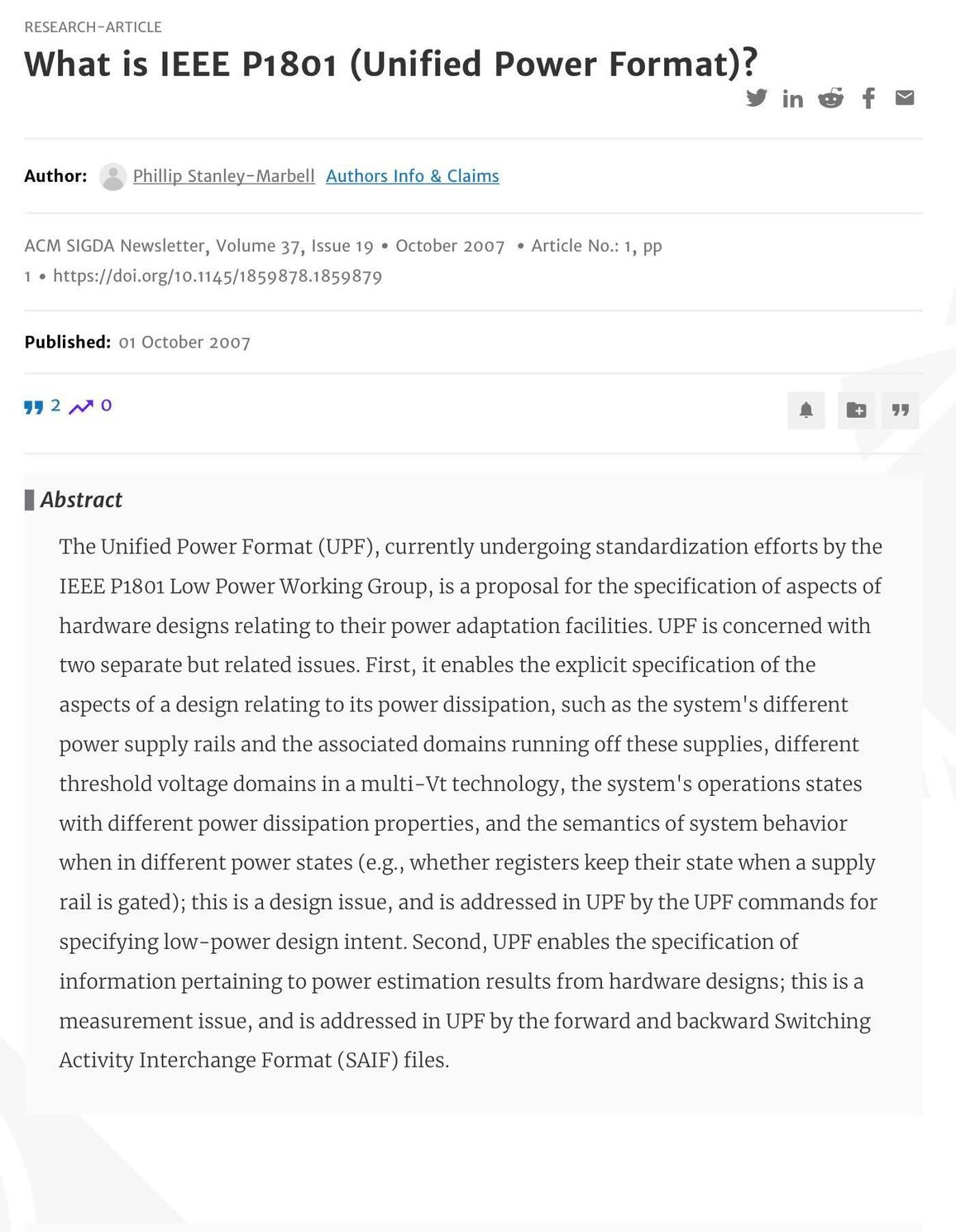 P. Stanley-Marbell. ACM Special Interest Group on Design Automation (SIGDA) Newsletter, 2007.
Abstract
The Unified Power Format (UPF), currently undergoing standardization efforts by the IEEE P1801 Low Power Working Group, is a proposal for the specification of aspects of hardware designs relating to their power adaptation facilities. UPF is concerned with two separate but related issues. First, it enables the explicit specification of the aspects of a design relating to its power dissipation, such as the system's different power supply rails and the associated domains running off these supplies, different threshold voltage domains in a multi-Vt technology, the system's operations states with different power dissipation properties, and the semantics of system behavior when in different power states (e.g., whether registers keep their state when a supply rail is gated); this is a design issue, and is addressed in UPF by the UPF commands for specifying low-power design intent. Second, UPF enables the specification of information pertaining to power estimation results from hardware designs; this is a measurement issue, and is addressed in UPF by the forward and backward Switching Activity Interchange Format (SAIF) files.
Cite as
Phillip Stanley-Marbell. 2007. What is IEEE P1801 (Unified Power Format)? SIGDA Newsl. 37, 19, Article 1 (October 2007), 1 pages. DOI:https://doi.org/10.1145/1859878.1859879
BibTeX
@article{stanley2007ieee,
    title={What is IEEE P1801 (unified power format)?},
    author={Stanley-Marbell, Phillip},
    journal={ACM SIGDA Newsletter},
    volume={37},
    number={19},
    pages={1--1},
    year={2007},
    publisher={ACM New York, NY, USA}
}